The Purple Shoes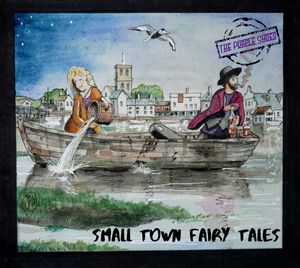 Album: Small Town Fairy Tales 
Label: Self Released 
Tracks: 12 
Website: http://www.thepurpleshoes.com/
http://www.fatea-records.co.uk/magazine/reviews/ThePurpleShoes/
The enduring popularity of British 'folk' music remains as a testament to both the 'purists', whose work in researching and performing traditional songs and tunes ensures that our past musical heritage is never lost, and the 'modernists' who embrace overseas influences and perform material that is pigeon-holed under various banners, from 'Americana', to 'folk-rock' and 'country-folk'. 
The Purple Shoes, on this debut album collection, attempt that most difficult of tasks, trying to keep a foot in each camp - maintaining a strongly English tradition in their songwriting whilst acknowledging the influences of the USA folk counter-culture of the1960's and 1970's. Like many bands tempted into the world of 'Americana', comparisons with the likes of Fleetwood Mac are the price you have to be prepared to pay, and with so many other UK ensembles currently ploughing this same furrow, the fields can become somewhat congested. 
What makes The Purple Shoes refreshing, though, is that the band came together in the seaside port of Shoreham-by-Sea, and it is that location and community that has been influential in creating their own sound and material. Songwriter Marie Dance returned to the South Coast after three years in Thailand, teaming up with local singer and guitarist Michael Bickers. The result, in 2016, was an album released under Dance's name which also featured Richard Dadson on double bass and founder member of STOMP, Theseus Gerard, on percussion. The line-up evolved into The Purple Shoes, now an integral part of the cultural scene in Shoreham. They have sold out several shows at the town's Ropetackle Arts Centre, and are now building an enthusiastic following further afield as well. The twelve new tracks on Small Town Fairy Tales are that rare commodity, a collection of songs possessing local essence, distilled from contemporary experience, then flavoured and seasoned with a shared love of 60's counter-culture and of rock and roll. 
Title track, 'Small Town Fairy Tale' is a story that reflects the reality of many a community infiltrated by the so-called 'county lines' drug gangs - becoming a haunting duet that deals with the personal cost of addiction and asks, poignantly, 'Would they miss us if we left without a trace?'. 
'He Holds On', enhanced with gentle fiddle from Mervyn Wallis, is about providing support and comfort, and being there for a loved one through periods of insecurity and worry. 'He holds on, so tight, all night'. 
There are tales of escape and travel. To a lively rhythm, a friend is despatched on his bicycle to Europe in 'Angel Shoes'. with instruction not to return 'until you've got stories to tell'. And 'Santa Cruz' finds two travellers looking for action in a quiet Spanish town, only to end up singing and playing guitar alone on their rooftop whilst the the town quietly dines in the local restaurants below. 
'Heartbreaker' is a tribute to the late Tom Petty, an average enough mid-tempo country folk song, but the stand-out track is undoubtedly the closing love ballad, 'Ophelia'. Inspired by a hurricane that wreaked havoc on the west coast of Ireland in 1997, it possesses a truly beautiful melody with gentle guitar and sensitive lyrics that reflect on the irresistible draw of drama and danger. Meanwhile a saxophone from Will Nash adds a truly magical contribution to what becomes an ultimately uplifting conclusion. 
So, setting aside the comparisons with Fleetwood Mac (which are perhaps the inevitable elephant in the room with The Purple Shoes), there are so many more influences and inspirations that are ripe and just waiting to be picked from these twelve tracks - 'The Rain Has Gone' has the style and quality reminiscent of a Ralph McTell ballad, 'Melody's Eyes' reminded me of Peter, Paul and Mary, and 'Good Morning (Is It Over?)' took me back to the west coast sounds of Delaney and Bonnie. Elsewhere there are flavours of Simon and Garfunkel, The Travelling Wilburys and Judith Durham and The Seekers. Ultimately, though, it is the strength of the local flavours extracted from their local Sussex base that thoroughly infuses this album, and the gentle sprinkling of external influences become just ribbons and bows that enhance and embellish The Purple Shoes. 
David Auckland