TITANIA'S TOURIST TRAVELBLOG 
Space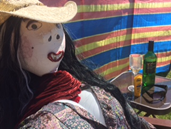 Hiya Purple Shoes people, here I am your lovely Titania, with tales to tell and secrets to spill. I see sales of Skyer hit the roof after my promotion last week and when I left you I was off to see a man about a bear. Silly me, I thought he was talking about some fierce furry thing that only popped out at night, imagine my surprise to find out that it was a creature native to the woods of Canada!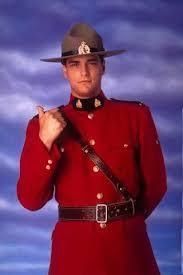 Anyway ,on arrival in this fair country, my nature studies were taken up by Chuck, a Canadian Mountie. Oh girls, I fell right over backwards at the sight of his red uniform and enormous pointed hat.  Now, I've never been one for horses, but Chuck showed me a magnificent beast and taught me how to ride, cowgirl-style all over the Rockies. I was so saddle sore, I had to take time off for good behaviour and visit the city named after the Lone Ranger's faithful companion, Toronto. 
( Secretly though, girls, I had also discovered that when they say that " A Mountie always gets his man" I didn't realise that Chuck took that literally!( Gosh, I didn't know which way to turn!) 
Despite the US lockdown, I somehow managed to get into the United States. With the help of a friend of my half-brother, Rodrigues, I crossed the border, at night in a truck full of packages of what I took to be talcum powder,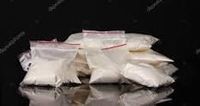 I never knew it was in short supply in the US, but apparently it fetches quite a good price on the streets of New York. My commission from the sales allowed me to catch a Greyhound ( the bus, sillies!) and headed South, on the highway, heading south, that's my way….la la, la,  see I was so happy I was singing! 
Darlings, you know how cold your Titania gets, so ,despite being thawed out several times on the way down,  I headed for Florida, "The Sunshine State" to soak up some warmth and leave the Greyhound for some more interesting doggy-style travel. Oh my dears, the beaches, the casinos, the peanuts, the bronzed bodies,! I got a job modelling those tiny bikini bottoms, where I had to parade in front of the cameras singing " Just a Thong at Twilight" for the CamelToe Channel . Oh and darlings, you have to be so careful with the language out here, the embarrassment when the Chief Grip asked me to get something from his trunks……that's what they call the boot of the car! Any way, it turned out he was the Best Boy too, Funny place.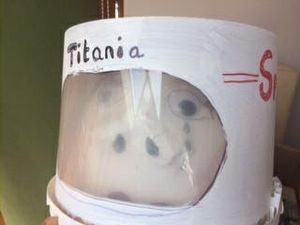 Whilst at a topping out party, I meet the delicious Elon Gated, a multi-balti- sqillionaire  who asks me if  I'd like to get high?, has your Titania ever turned her nose up at such an offer? I searched for the mirror. 
But, horror, shock and all things wobbly, I awoke to find myself stowed away on the Space-X mission to the ISS, the last thing I remember was Elon asking me if I'd like to see his helmet, then next thing I'm at Mach 5 heading into space! 
So, you'll be pleased to know, that I've docked safely with all the astronauts and am floating around in my tin can, just like major Tom, far above the world, in fact I'll be over you tonight, blink and you'll miss me as I fly through the heavens, weightless and lovely in my jump suit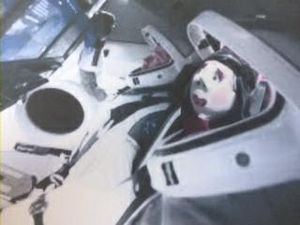 Byeeeeeeeeeeeeee