TITANIA'S TOURIST TRAVELBLOG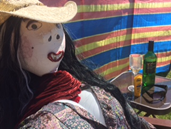 Hello Purple Shoes Peeple, here I am, your Titania, free as a bird and full of love for you all, ( even Tony) and just dying to tell you all about my escapades since we last met. Gosh, it has been so exciting. Well, as you know, I was devastated by that wretch Tony, who, refused my love so roughly (and you know how much love I have, and you know how I like a bit of rough!, no honestly) so, off I dashed, heartbroken and bereft, to join the nunnery of the Abbey of the Holy Mollusc and Lesser Saints at Peacehaven. Here, as Sister Ania, ( I dropped the Tit for obvious reasons) I sought a life of quiet contemplation and solitude. Darlings, It's a ghastly fashion look actually, the woollen underwear is so, extremely scratchy, even with my Anne Summers, extra sexy silk attire next to the skin. ( Down, boys!) also, the nun's complained about my liberal use of Chanel No. 5.5 to counter the small of incense and old wee. 

After two days on my knees, as you can imagine, I thought, "Sod that" and with the help of my devil-worshipping half brother, Rodriques,( he of the red hot toasting fork and a sharp line in designer tequila) we convinced the Mother Superior, Sister Antiall, that for the benefit of the sanctity of the Nunnery and in return for a year's supply of hash cakes, I should be free to disport myself around the world. 
By the way,here is my lovely Rodriques, in one of his more sober moments. I'm not sure what we drank the night after my escape, but, it certainly curled the brim of his hat! 
So, now, your lovely Titania is off to explore the world and to share this with you, my adoring fans( and Tony, if he can drag himself away from the bar and listen.) With limited financial resources, living on my wits and off my face, Your Titania is going to be loving the world as it throws itself at me and looking for any opportunity for commercial endorsement. 

I managed to drum up enough money for a National Express ( I thought I was done with being on my knees, girls, but needs must…) but imagine your Titania's shock when  her dream destination turned out to be Cleethorpes Beach, via Grimsby Docks. Where I exchanged my Manalo Blanick knock off slingbacks  (with, my dears, a rather gorgeous Russian matelot. He showed me an impressive range of tattoos, one in particular looked like VDK but with a bit of encouragement, read Vladivostock, what a shock!) Amongst other things he gave me were a pair of Keds (SO Princess Diana, darlings) a Berghaus Waterproof and a trip to the clinic. Your Titania loves warmth and sun , my lovelies, but here it is absolutely Baltic and desolated here on the East Coast , can you believe I passed two metallic monkeys in some distress on my way to the shore!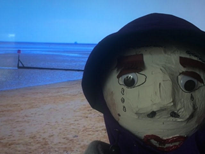 So, here I must leave you, shivering, my gorgeous fans, I've been promised a bed in the sailor's Mission ( or was it the other way round?) for tonight and who knows what might blow in in the morning. 
Byeee ( and don't forget, for a real taste of the sea, you can't beat Grimsby Kippers )