TITANIA'S TOURIST TRAVELBLOG 
Iceland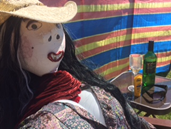 Hello again, Purple Shoes peeps, its your lovely Titania here, bursting with things to tell you about my travels. When you left me last week I was off for a bed in the sailor's Mission, where I met, Oh girls I cannot tell you, but Im gonna!! The gorgeous Juan, tattooed from top to toe and with a full NHS visor. ( I do like my men to be careful, darlings, but this was a bit extreme). Anyway, we went for a drink, and I misheard him say what I thought was " Do you want one?" indicating a bottle. Suffice to say that, I discovered his name is pronounced "One" and I think he gave me what can only be described as a Four Seas Over. 
Waking the next morning, he asked me if I would go to Iceland with him, mindful of social distancing and quite fancying a Weightwatchers Lasagne, I agreed. 
He whisked me on board his boat, the " Canastella"  as I thought, to get

to the store in the centre of Grimsby, but he hoisted up his sails and my skirt and we ended up on an island in the middle of the Atlantic, where he told me there was a geezer who erupted every 2 minutes! This I must see. I thought. 
Imagine my embarrassment when I discovered that the geezer is, in fact, a hot water spout, cos this island is.  Volcanic. However, lots of hot springs later we left the hotel and went rolling in the warm embrace of hot mud.  Sooo good for the complexion and pretty good for the removal of unwanted body hair, I'm as smooth as a glass dildo, my dears and the sun doesn't shine from my ass, it REFLECTS!! 
Juan, I discovered, bats for any team in the league, I should have known when he introduced me to Biggnus Bigmassivesunn, the other night in the Bar Bendy in Reykjavik that something was askew. 

So now your lovely Titania is once again adrift in a foreign land, luckily for me I got a job advertising a yogurt,called  Skyer, ( pronounce Skier) so its downhill all the way from here. I've been stood on a glacier in a bikini and mountain boots, filmed emerging from a small tent with the morning sun shining though my lacy nighty and had my backside filmed against the rising moon ( I had the best curve of the two); each time clutching a small pot of Fat Free and a spoon. It's a tough life girls, but it's no use crying over soured milk. 
I'm off to Bjorndalen to see a man about a bear, I think that's what he said, the accent is very thick ( Just like the new "Greek Style" Luxury Skyer yogurt) 
Byee Purple Shoes People.